What is MARUTO Microwavable Pouch?
We have developed a pouch for microwave-oven cooking that uses MARUTO Straight Tear Film technology to provide superior operability and cost performance.
* MARUTO Straight Tear Film is Maruto's pouch that tears straight by hand.
Features of MARUTO Microwavable Pouch
●Food can be cooked in the microwave with a single action, without the need to remove the contents from the pouch.
●The standing pouch can stand unsupported for easy heating in the microwave.
●In the unlikely event that the pouch does tip over, its construction makes it difficult for the contents to spill.
How to use MARUTO Microwavable Pouch
1. Tear open from opening A up to the notch.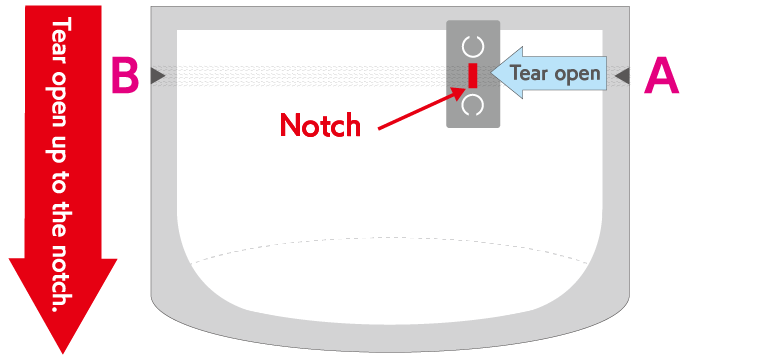 2. Stand pouch in the microwave oven and heat.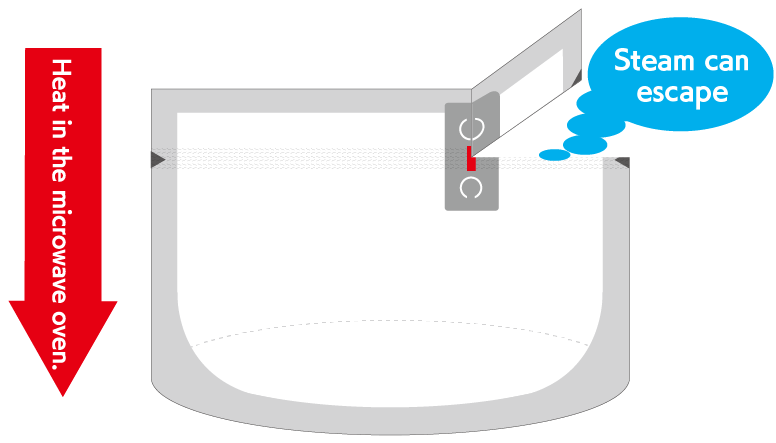 3. Remove the top of the pouch by tearing across from opening B, and pour out the contents from the pouch.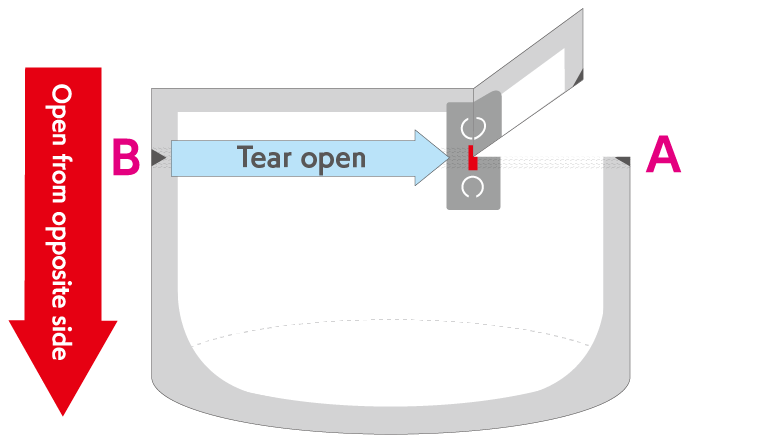 Safety of MARUTO Microwavable Pouch
The seal's special construction prevents contents from spilling.
Even if the pouch were to tip over while heating in the microwave, the contents would not easily spill from the steam vent, reducing the risk of burns.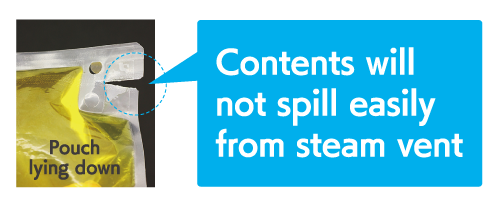 Example of MARUTO Microwavable Pouch Materials
High barrier PET/Nylon/CPP (Aluminum foil cannot be used as this product is for microwave use.) Maruto's MARUTO Light Shield Film (non-aluminum light-blocking film) can be used for CPP.
MARUTO
Microwavable
Pouch Offers
These Benefits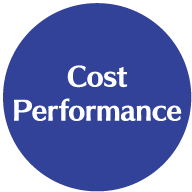 Ease of Opening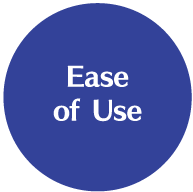 Cook in the microwave without
the need for external foil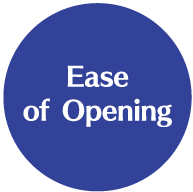 MARUTO Straight Tear Film for easy,
straight tearing
Add Convenience to
Your Products
to Set Them
Apart From Your Rivals
* Cost reduction is not guaranteed. Please consult with our sales representatives about your current circumstances.