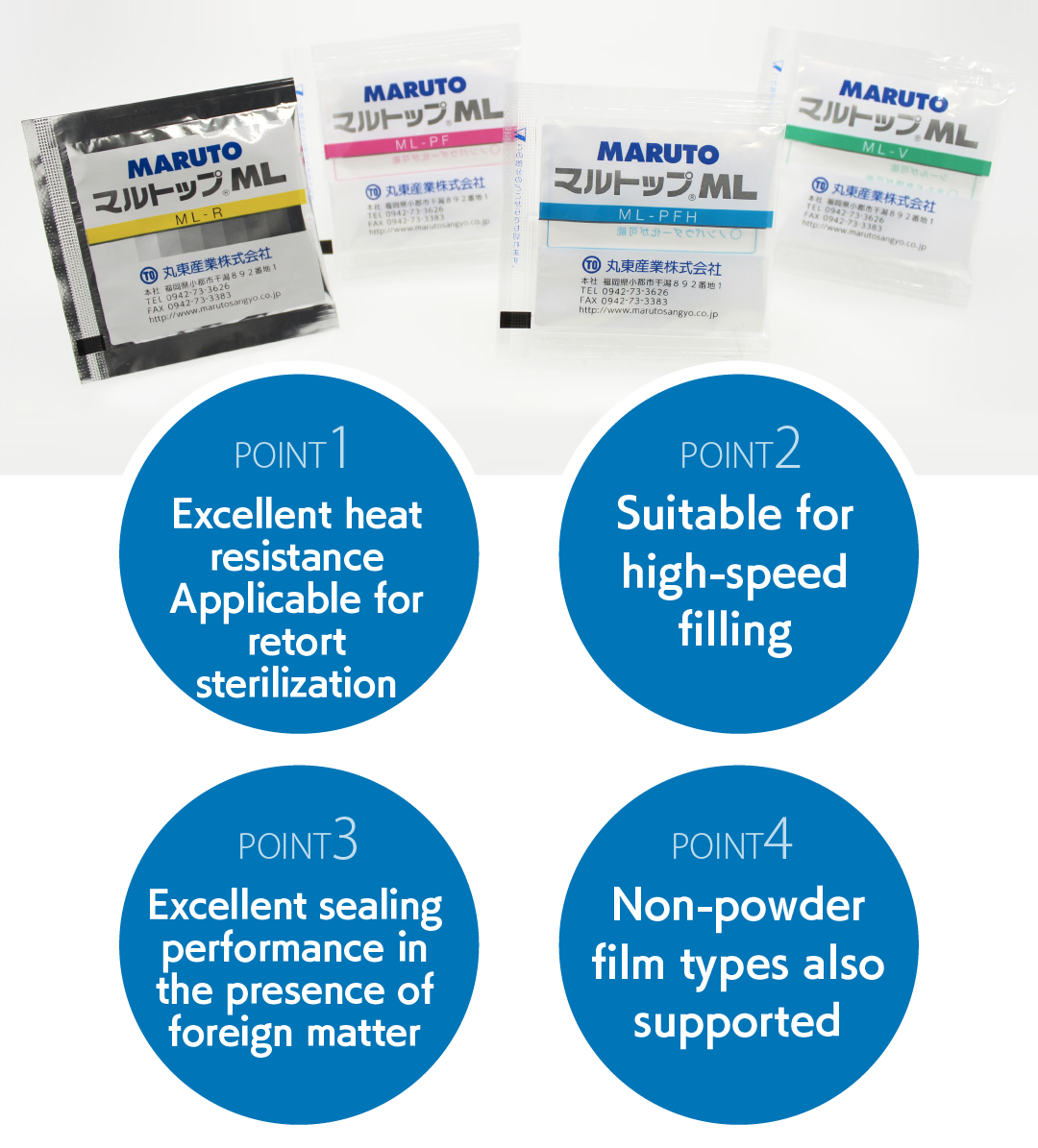 Film for high-speed
liquid filling
with all these features
That is

Numerical numbers of production capacity that this video shows are examples and differ depending on all conditions.
Therefore, the production capacity is not guaranteed.
Have you ever experienced
any of these issues?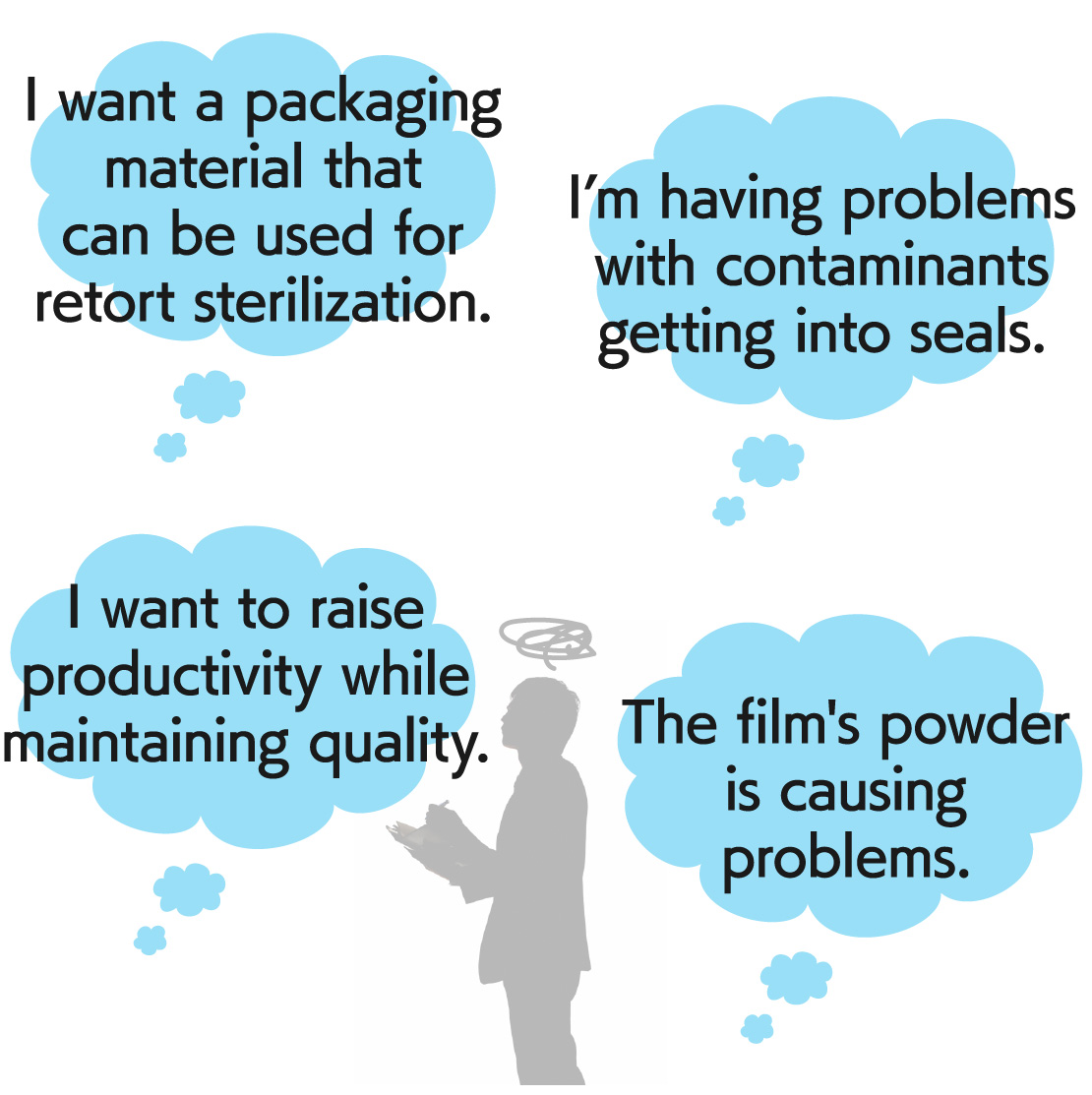 Excellent heat resistance
●The MARUTO ML Film series is suitable not only for post-fill boiling, but also for chilled filling and retort sterilization.
●Various grades are available to meet your packaging needs.
List of grades in range

(Maruto Sangyo survey)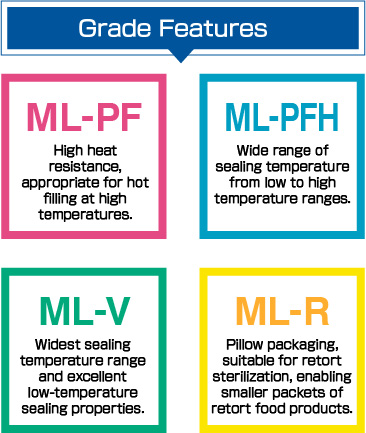 Suitability for high-speed filling
【Low-temperature sealing】
Low initial sealing temperature means sufficient sealing strength can be achieved even with short sealing times.
【Hot-tacking】
Even if there is pressure shock after sealing while cooling, peeling of the seal is kept to a minimum.

Seal-through-contamination performance
●Little reduction in sealing performance even if liquids, viscous substances, powders or other contaminants are present, enabling high-speed filling with stable quality.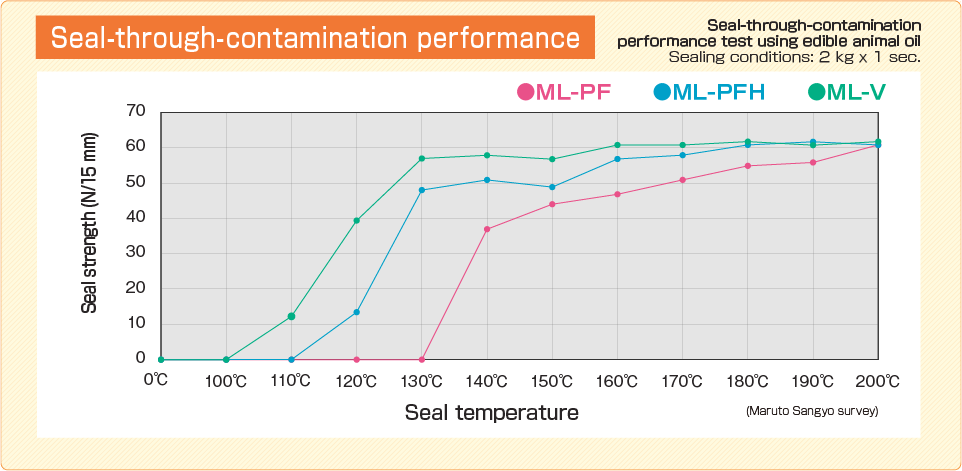 Powder completely eliminated (Use of powder eliminated for ML-PF and ML-PFH)
●ML-PF and ML-PFH are films with high sliding properties that enable packing without having to use powder (corn starch) to make the films slide.
Examples of problems caused by powder
【Blurred or missing printing】
Powder adheres to areas to be printed, resulting in blurred or missing printing, which can lead to complaints.
【Powder contamination】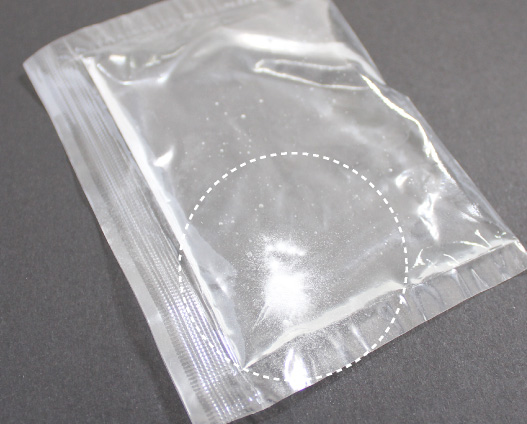 Clumps of powder stick to film, which can lead to complaints from consumers mistaking it for mold.
【Sealing defects】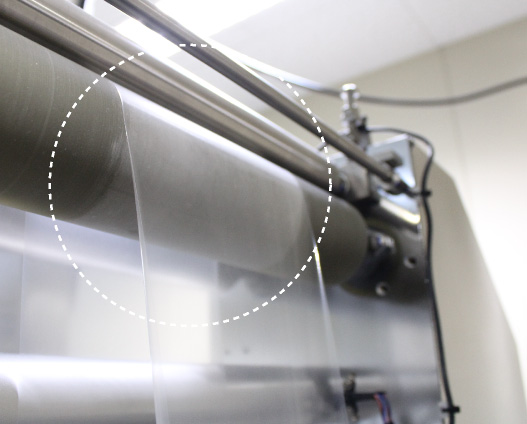 Powder accumulates on the packing line, clumps of powder fall and become jammed in the sealing area, causing sealing defects.

is playing its part in
a diverse range
of sectors
Noodle dipping sauce
Cold ramen soup
Dressings
Sauces
Jelly
Natto seasoning
Health food products
Soy sauce
Wasabi
Mustard
Ketchup
Mayonnaise
Cosmetics
Ice packs
Retort-pouch curries
Pet food
Nursing foods
Baby food
Liquid seasonings
Praise from
a satisfied
customer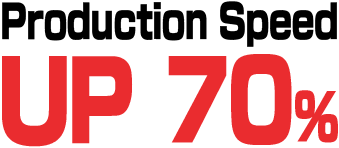 We were conducting automatic packaging of seasonings in multiple strings.
We wanted to raise our production speed for better production efficiency, but when we did so, recurrent seal defects meant that we were unable to package the product properly.
We were introduced to MARUTO ML Film, and found that we were able to raise our production speed while still maintaining sealing stability.
Our shot rate increased from 100 per minute to 170 per minute, resulting in a major improvement in production efficiency.
※The 70% improvement of production speed is not necessarily the thing which can be accomplished.

Vertical pillow packaging makes retort sterilization (up to 120ºC) possible

Previously, vertical pillow packaging for retort sterilization presented problems with sealing performance and filling speed improvements. These problems have been solved with the use of a special sealant.
Packing retort foods in vertical pillows means reduction in packaging material use

With pillow packaging, pouches can be completely filled with contents, allowing for smaller pouch volumes.
Using ML-R will raise production efficiency

In a comparison of ordinary films and ML-R, filling speeds on vertical pillow packaging equipment increases by 50%. In a comparison of pouch pour filling, speed increased by 20-50%.
Wide range of sealing temperatures

Compared with conventional films, sufficient seal strength can be maintained at low sealing temperature ranges, and the film can also withstand pressure shock after retort sterilization.
Sealing temperature comparison of ML-R and conventional films
| | Conventional films | ML-R |
| --- | --- | --- |
| 160℃ | - | ○ |
| 165℃ | - | ○ |
| 170℃ | × | ○ |
| 175℃ | × | ○ |
| 180℃ | × | × |
| 185℃ | ○ | × |
| 190℃ | × | × |
Retort sterilization: After 30 minutes at 120ºC, pressure testing (100 kg x 3 minutes) was performed. Filling speed: 60/min. Liquid temperature: 30ºC. Liquid volume: 30 ml. For pressure test results, ○ means no split bags; × means split bags occurred. × means seal did not fuse.
Filling speed: 60/min. Liquid temperature: 30ºC. Liquid volume: 30 ml. For pressure test results, ○ means no split bags; × means split bags occurred. × means seal did not fuse.